Today, we're joining with other public health organizations for a national call-in day to the White House. We need your help right now to urge President Obama to finalize common-sense rules for e-cigarettes, cigars, and hookah.
At the moment, there's no federal oversight of these products at all despite significant use by kids.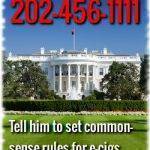 After many delays, the FDA last week sent President Obama the final rules for review. That's why it's important that you act today!
Please take two minutes to call the White House comment line and urge President Obama to finalize the rules immediately. The number is 202-456-1111.
After you call, please reply to this email and let me know.
I'll be keeping track of how many calls go in and what kind of responses the White House gives.
If you can't call, you can still help:
The more calls and emails the President receives today – when he's actually considering how to proceed – the more pressure he'll feel to get this done.
What we're asking for is simple:
Stop sales to minors across the country.
Require childproof caps for e-liquid.
Stop companies from marketing to kids.
Prohibit kid-friendly flavors like "gummy bear."
Conduct health and safety reviews for products.
It's taken far too long to finalize these rules. Pressure from advocates like you has gotten us this far. Now, we just have to push them over the finish line!