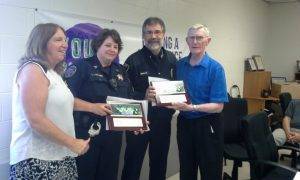 Police Departments Named Positive Change Makers
Youth2Youth 4 Change Coalition recently recognized the city of Beloit and Beloit Townships Police departments as the positive change makers for the second quarter of 2016.
The departments were recognized for the outstanding collaborative work they do with the coalition in helping to prevent youth substance abuse in the community.  Both of the police departments assist the coalition in many efforts that help create awareness of youth substance abuse and assist in keeping sure that alcohol and tobacco are not sold to underage youth through compliance checks.  It is an honor to recognize recognize the police departments for their outstanding efforts.
Positive Change Maker recognitions are a way that Youth2Youth 4 Change  is working to share the positive things that are happening in the community of Beloit and changing the environment of our community.